tirsdag 26. januar 2010
Contact information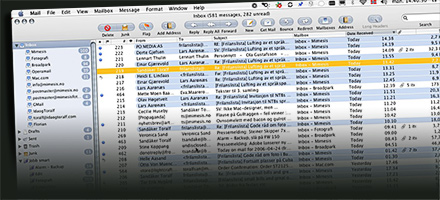 We are a small company of two persons who partly work outside the house, partly travel or are involved in external projects. Please contact us before sending us courier mail or visiting us.
Email and mobile phone are the most effective and secure contact channels. Normally you will reach us between 09.00 and 16.00 Central European Time. If we am not available, the mobile phone and office phone have answering machines.
Email
E-mail is checked daily, as long as we have access to internet. That includes travelling. Sometimes, during our travels, you may have to wait a day or three for a reply, but that is not the rule.
Our email server uses a strong spam filter, but everyone who has received an e-mail from us, should be safe. If in doubt, ask for a confirmation. If you need to send us large files (10 MB and more) please contact us first.
Please note that we are not chatting frequently, so don't expect to see us on-line available for a chat without an appointment.
Phone and SMS text messaging
Sometimes we may be unreachable by phone the whole day or even several days. Please leave a message or send us an e-mail or a SMS text message.

We are not using a fax machine anymore. Please send an email instead.
Snail mail, courier mail and parcels
We try to avoid all correspondence by paper mail if at all possible to use e-mail. Never ever send samples or parcels from abroad without contacting us first, as Norwegian Custom Services are incredibly nitpicking and unflexible and will easily charge us a premium in taxes. We may return unordered material at sender's full expense.